Laura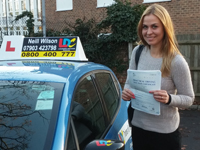 Like most people I had taken a few driving lessons when I was 17/18 but my confidence was knocked by an over anxious instructor. I didn't feel like a 'natural driver' and didn't enjoy my weekly lessons, in fact, I dreaded them. So, naturally I pushed driving to the back of my mind and agenda.
Twelve years later and suddenly I become acutely aware that amongst my friends and peers I was the only person in my social group who couldn't drive! I didn't want to be that person anymore. Despite my fears and doubts I found Neill Wilson online and decided to learn more about the LDC driving school; to which Neill is affiliated. Taking the initial plunge was scary but after one short chat with Neill I was put at ease instantly. Relaxed, real and kind, these were the traits I needed in an instructor.
After my first lesson I was shocked at how much I absorbed and was able to learn with a very tactful and encouraging instructor as Neill. I appreciated the feedback as it was always helpful and reassuring. I know more than anyone how easy it is to talk yourself into believing that you 'just can't drive' and that's nonsense. It's not important whether you class yourself as a good driver, passing your test is about becoming a safe driver and along with Neill's vast knowledge of the road, the LDC literature will help you get there. I passed my test 2nd time at the age of 30. It's never too late to learn to drive and it's never unachievable.
To help you on that journey I can only recommend Neill and LDC training, it's second to none!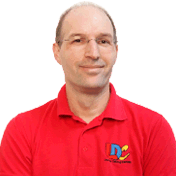 Hi I'm Neill Wilson
I'm a driving instructor in Blandford Forum, Bournemouth, Dorchester, Poole, Wareham and surrounding areas..
https://www.passwithneill.co.ukCall 07903 423798