Chantal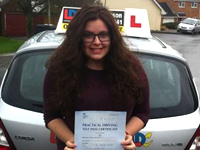 Kev is an amazing driving instructor, who helped me not only pass my test first time in 30 hours, but also gave me confidence on the road as well. Before booking lessons with him he comes to have a meeting with you to discuss how you would like to do your lessons, e.g. Do you want to block book or book at the end of your lesson.
When I had my first lesson with him I was extremely nervous as I was convinced I would somehow damage the car, but before I even got prepared to start the vehicle he talked me though what and how everything was which I would need in order to drive safely and responsibly. He's known by most learners and potential learners as being able to obtain great results, through engaging pupils to remember sequences with clever tricks, such as, two-turn for a left or right steering lock. When you book lessons with him you get a theory workbook, 2 DVD's and a theory book which are all beneficial for both theory and practical tests.
By having two hour lessons it enables you to pick up manoeuvres and skills faster by repeating it until you and he are happy with it. Kev never harshly criticises you, but will point out on what you need to work on and how serious it could be if there happened to be another car involved.
I knew I could always count on him to be on time and in a good mood, therefore making him approachable and a laugh. Which again affects the way you pick up thing more easily as you are relaxed and wanting to learn. Looking back I really can't see myself going with any other driving instructor apart from him as he's great. I've already recommend him to a number of people and I passed a week ago.

Hi I'm Kev Thomson
I'm a driving instructor in Swindon, Wroughton, Wootton Bassett, Lyneham, Purton and surrounding areas.
https://www.lessonswithkev.co.ukCall 07985 607641