Rachel Woods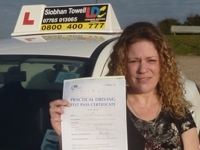 I previously took a test 18 years ago and failed. I didn't enjoy driving then, as I was talked into having lessons by my parents. This time round was different as I wanted to drive and I enjoyed it. I was very nervous about driving as I had a motor bike accident last winter and passing my driving test would make my work so much easier. When I first started my lessons with Siobhan, she always put me at ease. She was always very polite, friendly and patient and I very much looked forward to my lessons. Each lesson was well planned and I was never rushed in any way. I found the targets in the workbook useful and if I didn't understand I asked Siobhan. I would definitely recommend Siobhan to anyone wanting to learn to drive and I will miss seeing Siobhan every week and I owe Siobhan the world now as I have this for life. I didn't just do this for my job I did it for myself and am on cloud 9! Thank you Siobhan.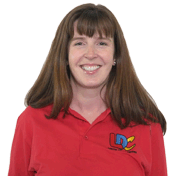 Hi I'm Siobhan Towell
I'm a driving instructor in Waterlooville, Havant, Horndean, Portsmouth and surrounding areas.
https://www.passwithsiobhan.co.ukCall 07765 013065