Vikki Gruber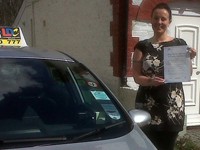 I opted for the semi-intensive course with Mark. I had no experience of being behind the wheel and I was extremely nervous but, thanks to Mark, I passed first time with seven minors!

From the minute I met Mark I knew he would be the instructor for me. His organised and methodical approach to teaching, along with the LDC workbook and DVD, meant the lessons were structured and the time spent in the car maximised. He was always on time and the car was very clean and lovely to drive. I found Mark to have a great way of letting me know where I went wrong without knocking my confidence and really encouraged me to focus and look at the positives. Although he is very professional and takes his job seriously, he had the great knack in making me feel comfortable and safe, but at the same time made the lessons enjoyable and fun thanks to his good sense of humour!

I really would recommend learning to drive with Mark - I truly believe I would have had to have far more lessons and would not have passed first time if it had not been for him. Thank you again Mark!
Hi I'm Ashley Blair
I'm a driving instructor in Colchester, Mersea Island and surrounding areas.
https://www.passwithashley.co.ukCall 077 0222 0333