Niamh Hedges Quinn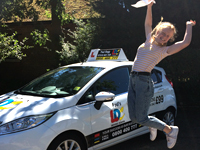 I was extremely nervous when I began my driving lessons as I was convinced I was going to be a bad driver, but as soon as the lesson started I felt so much more at ease. Paul made me feel comfortable and confident to drive; knowing he always had my back if I made a mistake was very reassuring. The lessons were fun and structured around what I wanted to practice. By using the LDC driving skills workbook, I was able to learn basic controls and manoeuvres before attempting them in the lesson which made them easier to understand and more achievable.
I passed my theory test first time with the help of Paul's LDC online hub. This was a free website I could use which had practice questions and hazard perception tests – I'm not sure I would have passed first time without the hub. I also passed my practical test first time with only one minor, which I was very pleased with! On the build-up to my test, Paul took me on some driving test routes to do some mock tests. This was extremely helpful as I learn the basic layout of the test and what I would have to do on the day. I was nervous coming up to my test but was confident I would pass.
I would definitely recommend Paul and LDC to anyone wanting to learn to drive. The lessons were enjoyable and structured around me. I received a lot of support from both Paul and by using the LDC hub when I was approaching my tests, which I think is why I did so well in both of them. I think the fact that I passed with only one minor speaks for itself though; I am now a safe and confident driver thanks to Paul and LDC!
Hi I'm Paul Gegg
I'm a driving instructor in Ipswich, Felixstowe, Hadleigh, Stowmarket, Needham Market, Claydon, Woodbridge,Kesgrave, Martlesham, Maningtree and surrounding areas.
https://www.drivertrainingwithpaul.co.ukCall 07516 683348