Become a driving instructor with LDC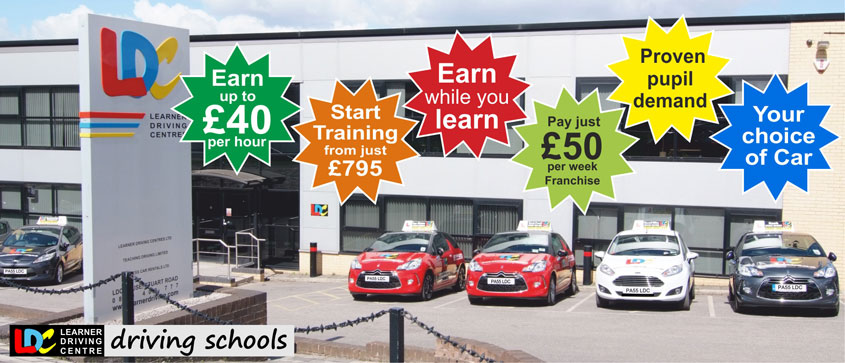 If you are a naturally caring and nurturing person who takes pride in their driving this could be the ideal job for you.
Be your own boss, choose your own hours and look forward to going to work every day. In our view the pleasure from seeing one of your learners pass the driving test simply can not be surpassed.
Become a driving instructor with LDC and potentially earn up to £40 per hour operating your own LDC driving school franchise. To be eligible for this job you need to successfully complete our driving instructor training course and pass the required DVSA Approved Driving Instructor (ADI) examination.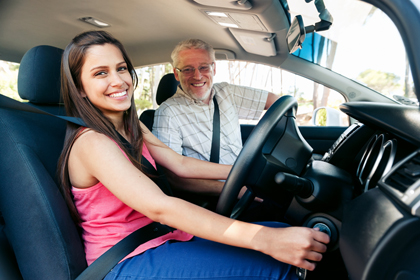 The ADI examination is in 3 parts:
Part 1 Theory Test (i.e. PC based multiple choice/hazard perception)
Part 2 Driving Test (i.e. watching you drive to a good standard)
Part 3 Instructional Ability Test (i.e. watching you deliver a lesson)
You also need to be over 21, have held a driving license for at least 3 years and have no more than 5 penalty points on your licence (within the last 4 years).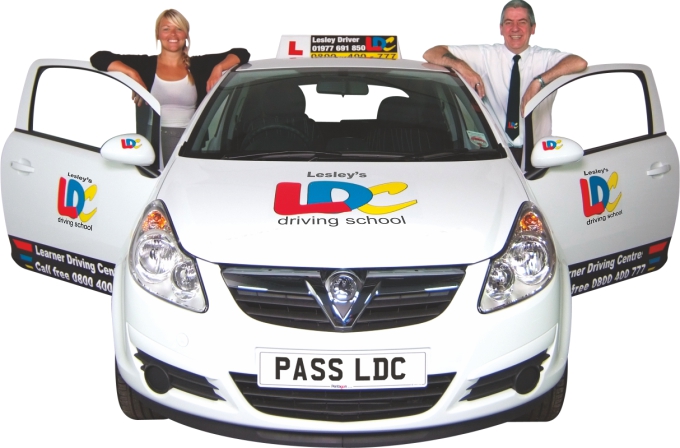 So if you are good with people and have a passion for safe driving this could be the right career for you. Here are the benefits of operating an LDC driving school franchise:
Earn up to £1,400 per week plus car
Wide choice of car
Be your own boss
Choose your own working hours - part time or full
Work locally from your home
Discover real job satisfaction
Unique resources and methods to ensure you succeed and stand out from the crowd
If you are looking for the most effective training to become a qualified driving instructor or indeed the best driving school franchise with which to work thereafter then give us a call on freephone 0800 197 0010 or call 01977 691800. Alternatively, request a free information pack or read on to learn more.
Why train with and join LDC?
LDC have an enviable 30 year proven track record of success - both in terms of ensuring you qualify and earn an high income thereafter. The safer, smarter way to a successful new career.
LDC currently supports around 500 highly successful LDC driving school franchisees across the UK most of whom have customer waiting lists extending over several months charging top lesson rates.
LDC course fees to become a driving instructor are very competitive starting from just £795 on our pay-as-you-go option.
LDC provides up to 70 hours of blended practical learning guided by a specially trained LDC instructor training coach (on the premium course option).
LDC also provides over 100 hours of open learning using our comprehensive iCourse and self-study materials.
LDC provides a further 3 days business start–up training on how to run a successful driving school when you decide to join us.
LDC can be trusted to provide the essential on-the-job training on a Trainee Licence once passed Part 2 of the qualifying examination so you can earn as you learn.
LDC only offer Trainee Licence positions to those who purchase a training course with us.
LDC offers a super low franchise at only £50 per week with the option to rent, buy or use your own car (if suitable). Save up to £5,000 per year compared to other national driving schools.
LDC don't tie you into an expensive 1, 2 or 3 year franchise contract. Once qualified you need only stay 3 months after which we just require just 1 months written notice to leave.
LDC provides a business start up package worth over £1,000 when you join - nobody gives you more sooner.
LDC would normally charge an extra £500 to join our franchise as a newly qualified instructor but this fee is waived if you train with us in the first place.
LDC instructors are taught in the use of the incredible LD System and the latest student-centred learning techniques.
LDC are the ONLY national driving school accredited, under the MoD Enhanced Learning Credits (ELC) scheme, to train ex Military Service Personnel to become driving instructors.
LDC has over 50 expert instructor trainers covering the majority of the DVSA ADI test centres in the UK.
LDC has a state-of-the-art edexcel, SFEDI and ORDIT approved training centre.
First to be awarded Training School of the Year
The award was presented by Gareth Llewellyn the CEO of the Driver and Vehicle Standards Agency (DVSA) to Paul and Gemma McArdle of LDC driving schools at the Driving Instructors Association (DIA) annual conference.
This Training School of the Year award was introduced in 2016 and LDC were the very first recipients which just goes to show the incredible reputation LDC has built up over the last 30 years to be the first training organisation to receive this prestigious Industry Award.
There are other non-industry awards provided by car magazines and the like to promote their advertisers but they have little sway within our industry and are not endorsed by the DVSA the governing body for driving instructors in the UK or the largest association of driving instructors the DIA.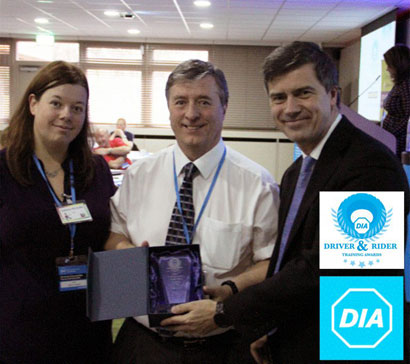 Don't be fooled
Don't be fooled, many companies selling instructor training are not what they seem. Bogus schools with no track record, phoney misleading guarantees and contracts designed to catch you out. Its easy to create a flashy website and brochure with no real substance. Make sure you speak to a well established national driving school such as LDC before you part with any money. Thousands waste their money each year on such companies - don't be one of them.