DVSA Requirements to become a driving instructor
The Driver and Vehicle Standards Agency (DVSA) is an executive agency of the Department of Transport. In respect to driver training the agency is responsible for conducting all theory and practical driving tests in Great Britain and has the responsibility for maintaining the Register of Approved Driving Instructors (ADIs) and the Official Register of Driving Instructor Trainers (ORDIT).
It is illegal for anyone to charge for driving tuition unless their name is on the Register of ADIs or they are licenced as part of the Trainee Licence scheme. To become an ADI you need to pass the DVSA ADI qualifying examination and meet certain minimum legal requirements. You must:
1. Hold a full UK or EEA unrestricted car driving licence;
2. Be aged 21. You can start the qualifying process 6 months before your 21st birthday. You must have had your full licence for at least 3 years to supervise a learner driver.
3. Have held your licence for at least 2.5 years prior to entering the Register after qualifying;
4. Not have been disqualified from driving at any time in the 4 years prior to being entered in the Register;
5. Be a 'fit and proper' person to have your name entered in the Register. All convictions, motoring or non-motoring still in force will be taken into account by the DVSA before allowing you on the Register and from experience we know that anyone with 6 or more points on their licence within the last 4 years prior to entry on the Register is likely to be rejected. You will need to apply for a DBS check as part of this process.
Remember the DVSA are the sole decision maker on who can and who can't train to become a driving instructor.
You should also ensure you can read a number plate in good daylight at a distance of 27.5 metres or 26.5 metres depending on the width of the lettering (with glasses if normally worn for driving) as this will be checked on Part 2 of the qualifying examination. On the normal driving test you need only read a number plate at 20.5 metres or 20 metres depending on the width of the lettering.
Please also note that on the Part 2 driving test you must be able to take rear observations by looking round when reversing without heavy dependency on the mirrors. So if you have minimal neck movement this will need to be checked before you start, since you are not allowed additional mirrors as on the ordinary driving test.
The ADI qualifying examination
The DVSA ADI qualifying examination is in three parts:
Part 1: Theory - consists of a multiple-choice test and a video based hazard perception test.
Part 2 : Driving - consists of an eyesight test, show me tell me safety check questions, followed by a practical driving test.
Part 3: Instructional ability - consists of a practical test of the ability to instruct.
Once you have passed Part 1 you are required to undertake and pass the two remaining parts within two years. You are permitted an unlimited number of attempts at Part 1, however for Part 2 and Part 3 you are only allowed three attempts at each test. Should you fail a third attempt at Part 2 or Part 3 you would have to restart qualification again after 2 years had elapsed from your Part 1 pass date.
Waiting time for Part 1 is minimal; however because you need to obtain a DBS and seek DVSA approval first, the Part 1 test cannot be taken for about 6 to 8 weeks. Waiting time for a Part 2 or Part 3 test appointment is also about 6 to 8 weeks, consequently the exam process itself from start to finish is about 18 to 24 weeks assuming there are no other delays. This is why intensive driving instructor training may not be suitable depending on the exam waiting times in your area.
Part 1: Theory
Multiple choice section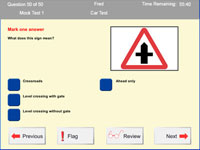 This section tests your knowledge of the Highway Code and other instructional matters via a Personal Computer and lasts for 90 minutes. You are asked 100 questions with optional voice-over. For each question four answers are shown on the screen and you are required to select the answer you think is correct. To pass you are required to answer 85 questions correctly overall (including 20 within each of the 4 subject groups tested, also known as bands). Below is a list of the topics covered and which band or group (i.e. 1 to 4) they belong too:
1. Road procedure (25 questions)
2a. Trafic signs and signals (5 questions)
2b. Car Control (10 questions)
2c. Pedestrians (5 questions)
2d. Mechanical knowledge (5 questions)
3a. Driving test (10 questions)
3b. Disabilities (5 questions)
3c. The law (10 questions)
4a. Recommended publications (10 questions)
4b. Instruction knowledge (15 questions)
If you have any type of reading difficulties you can ask for a voice over or request additional time within which to complete the test. If you would like to see how this test works in practice you can access our FREE Theory Test webpage.
Hazard perception section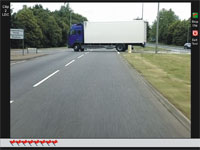 This section tests your ability to identify moving hazards ahead, that are likely to cause you to slow down, stop or change direction. The test requires you to watch 14 video clips, each filmed from the drivers eye view of a car as it drives down the road. Each time you see a moving hazard start to develop you would click the computer mouse button to let the program know you have seen the problem. The earlier you see the warning signs and click the mouse button, the higher your score will be. A maximum of 5 can be scored on any hazard and a total of 15 hazards are shown with at least 1 per clip and with one clip having 2. To pass this test you have to score 57 out of a maximum possible score of 75 (i.e. 15x5).
If you would like to experience how this test works you can access the FREE Hazard Perception Test webpage but remember unlike a learner driver who only needs 44 to pass you will require 57.
Part 2: Driving
The Part 2 driving test closely resembles the current test for learners in format and content. However, the eyesight test requires you to see a number plate at a slightly longer distance (i.e. 27.5 metres or 26.5 metres depending on the width of the lettering), the duration of the test is longer to allow you to undertake all the set manoeuvres and you are expected to perform to a higher standard. Unlike the L test you are only permitted a maximum of 6 minor driving faults and what constitutes a minor driving fault may be more harshly assessed.
Part 3: Instructional ability
In 2018 the DVSA introduced a new Part 3 test. In the new ADI Part 3 test the examiner wants to observe you delivering a real driving lesson to one of your pupils, rather than the examiner pretending to be a pupil as was the case prior to 2018. In many ways this makes the test easier as a real pupil isn't trying to catch you out but the downside is you will need to show you can perform all aspects of the job for real rather than just pick up and correct driving faults that the examiner makes as was the case before 2018.

The examiner now needs to observe you from the back seat of your car delivering a driving lesson for real. Consequently, any course must now incorporate a large amount of real on-the-job practical training to ensure you succeed. Look out fr training providers who are now selling online training only.
The examiner is now assessing you on your ability to tailor the training to your pupil's learning goals and needs. In particular, the examiner will:
look for evidence that the trainee instructor meets the national standard for driver and rider training
mark 17 areas of competence in 3 categories – lesson planning, risk management and teaching and learning skills
Trainee Licence Scheme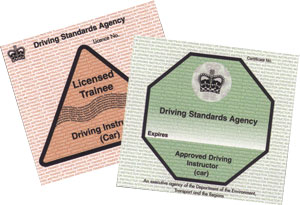 After you have passed Part 2 of the ADI examination (and undertaken the necessary training to be able to do the job) you can potentially start to earn money as a trainee driving instructor. In this way you can start to earn money earlier then you might otherwise and you also get the opportunity to gain some real on-the-job experience to help you pass the third and final part of the ADI examination.
To obtain a trainee licence you have to be sponsored by, and work with, an established driving school such as LDC. Please note not every driving school supports the trainee licence scheme, for example, this option is not available with the AA driving school. The AA use the BSM brand to operate instructors on a Trainee Licence, which they acquired when BSM went bust a few years ago. Also be aware that some schools charge a much higher weekly franchise if you join them on a trainee licence. This is not the case with LDC.
Because LDC's instructor training course is so comprehensive it is not essential to have a licence in order to prepare for the part 3 examination, but it is an option that is available to assist in preparing for the examination.
Unlike some driving schools, at LDC, trainee driving instructors are treated exactly the same as fully qualified driving instructors and are not charged extra or receive less for the services they provide to the public. However, it is not uncommon for LDC trainee driving instructors to give pupils a little extra lesson time to reflect the fact that they are still learning the job or to offer special introductory discounts for lessons. Any such actions are solely at the discretion of the trainee driving instructor.
Conditions of a trainee licence
The conditions under which a licence is granted by the DVSA are:
You are only authorised to give instruction for the school whose address is shown on the licence (i.e. the sponsoring driving school)
You must not advertise yourself as a fully qualified instructor
You must receive 40 hours practical Part 3 training from a qualified ADI before you apply for your licence, of which at least 25 per cent must be in-car training either 2-to-1 or 1-to-1. All this training must have occurred within 6 months of starting the licence. It is your responsibility to make sure that you receive training in each of the specified subjects. You must submit a completed Instructor Training Declaration (ADI 21T) with your application and have it signed on behalf of the sponsoring driving school and the trainer or trainers if more than one was used.
You must also abide by one of the following conditions:
Condition 1
You must receive supervision for 20 per cent of all lessons you give from your sponsoring ADI
A record of all lessons given, along with the supervision received must be kept on the form ADI 21S which will be issued with the licence. This must be signed by you and your ADI and must be returned to the Driver and Vehicle Standards Agency (DVSA) as soon as the licence expires; or
Condition 2
You must receive a minimum additional 20 hours of Part 3 training covering all the specified topics
This extra training must take place within the first three months of the licence or before you take your first attempt at part 3, whichever is the soonest
A record of this training must be kept on the form ADI 21AT, and must be sent to DVSA before the end of the three month period, or presented to the examiner conducting the part 3 test, whichever is the earliest
At least 25 per cent of the training will have to be practical in-car training either 2-1 or 1-1 and again the trainer or trainers must sign the form to confirm the required training has taken place.
Displaying the trainee licence
When instruction is being given the licence must be displayed in the bottom left hand corner of the front windscreen. The use of the licence is your own responsibility. No refunds will be given for any period when the licence is not used.
If you cannot make full use of your licence and you have to stop giving tuition, return it to the issuing office immediately. If your trainee licence is lost or stolen you should report it to the Police and to the DVSA straight away.
Emergency Control Certificates for Disabled Instructors
The Road Traffic (Driving Instruction by Disabled Persons) Act 1993 came into effect on 9 September, 1996 making provision to enable persons with a physical disability to be authorised to become driving instructors. It is only open to drivers whose driving licence is restricted to automatics because of a disability. In order to apply to become an Instructor, applicants must first obtain a certificate which verifies their ability to take control of the tuition vehicle when necessary.
The Training and Development Centre at Cardington are responsible for the assessments leading to the issue of the Emergency Control Certificates (ECC) previously carried out by The Mobility Advice and Vehicle (MAVIS).
The assessment consists of seven exercises each of which is designed to test the Potential Instructors ability to take control of the vehicle as and when relevant in the interest of safety. The test will be carried out in an adapted car which has been transferred from MAVIS into the Cardington fleet.
To apply for an Emergency Control assessment application form. The candidate will contact:
Instructor Services & Registration Team (ADI)
The Axis Building
112 Upper Parliament Street
Nottingham NG1 6LP

The completed application form should be sent to:
Emergency Control Certificate Assessor
The Training & Development Centre
Paul Waller Ave
Off Harrowden Lane
Cardington
Bedfordshire
MK44 3ST
Tel 01234 744000
Fax 01234 744001

On receipt of application a member of the Cardington team will contact the candidate to arrange the earliest convenient date and time. This will be confirmed in writing.
Cardington will carry out the assessment, issue the result and debrief. A successful candidate will be issued with an Emergency Control Certificate (ECC) which is a pre-condition to qualify in the restricted category of Approved Driving Instructors.
A copy of the ECC should then be submitted to Instructor Services & Registration Team (ADI) in Nottingham with the application for registration.