10 x Driving Test Complete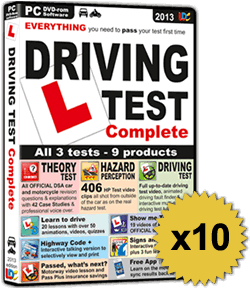 Save money by bulk buying 10 copies of Driving Test Complete as one package and get Free P&P.
See Driving Test Complete in the Theory or Driving sections of the store for full details.
The only PC software for learner drivers awarded 5 stars. Auto Express reviewed the top 10 training aids for learner drivers for last year and Driving Test Complete came out as the number 1 software product. Since then it has been improved even further and now contains a massive 406 Hazard Perception Test clips (Almost double that of our nearest competitor). For further details of the product please look at Driving Test Complete in the Theory section of the store.
Be the first to review this product
Professional voice-over is used extensively throughout the product for help, information, learning notes, tutorials, animations, video, questions, answers and hint advice and has been stated here to save repetition of this fact in the features and descriptions below.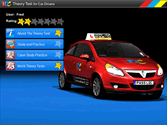 The Product is made up of 8 distinct programs:
1. Theory Test
The very latest OFFICIAL DVSA Question Bank for cars drivers and motorcyclists used in 3 unique learning programmes with highly realistic mock test simulations. Includes new case studies and the Abridged Theory Test. Nothing can offer you the same learning flexibility or ease of use with comprehensive pre-study tutorials and help hint pop up including Learning on the Move to allow you to download questions as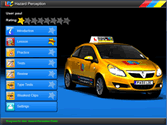 MP3 files or Podcasts onto your MP3 player, mobile phone or iPod.
2. Hazard Perception
406 Hazard Perception test simulation video clips including the 10 OFFICIAL DVSA test sample clips and test introduction video providing 28 properly balance, unique test simulations. Nobody offers more and nobody can match the quality of the clips we offer. Also includes entertaining interactive multimedia tutorials to help you understand the test, the skills you are trying to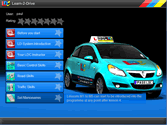 develop and the common types of hazard that appear on test.
3. Learn-2-Drive system
20 Interactive driving lessons using over 50 animations, videos and quizzes to help you to prepare for each driving lesson in LDCs highly acclaimed tuition system. Put yourself in the driving seat by making sure you follow a proven structured training programme that leaves nothing to chance. See below for more details.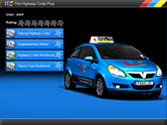 4. Show Me Tell Me
Complete "Show me Tell me" video lesson with video examples of each of the 19 OFFICIAL test questions (i.e. 12 Show Me and 7 Tell Me questions). Dont get caught out even before you start by rehearsing how to answer each of the 19 official questions that can appear on the practical driving test. See below for more details.
5. Practical Test

Fully interactive mock test videos (with independent driving) and tutorials so you know exactly what to expect on the big day and exactly how the examiner will mark you. Discover if you still have any outstanding driving weaknesses and how to correct them. Ensure you make your first test your last.
6. Highway Code Plus
Interactive talking version of the OFFICIAL Highway Code (new version), LDCs supplementary training notes and extracts from Motorcycle Rider essential skills with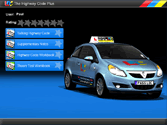 view, search and print capabilities including Learning on the Move to allow you to download Highway Code rules and supplementary notes onto your MP3 player, mobile phone or iPod. Plus eBooks of LDCs version of the Highway Code and Theory Test quiz book valued at £1.95 and £4.99 respectively.
7. Signs, signals and road markings
Interactive tutorials about the UK sign system plus 3 games to make learning your traffic signs fun.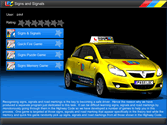 Learn how our signs, signals and road markings came about then test yourself with the theory, quick fire and memory game.
8. Passed - What next?
Pass plus and motorway driving lesson videos and notes together with access to the highly acclaimed interactive road safety tool 2 young 2 die produced by Brake - the road safety experts.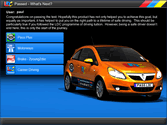 Nothing in the market currently compares to the quality or the quantity of the Driving Test Complete product. It is easily the most complete and comprehensive software of its kind. Indeed it is easy to pay twice as much for half of what this product offers. So if you want to give yourself the best possible chance of passing the Theory, Hazard Perception and practical Driving Test first time as well as equipping you for a lifetime of safe driving then buy Driving Test Complete and put yourself in the driving seat today. To find out more please read on.
1. Theory Test program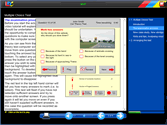 Information module
Interactive tutorial that tells you all about the Theory Test with professional voice-over.
Comprehensive help on how to use the program at each stage.
Learning module
Contains the entire Official DVSA Theory Test question bank for car drivers and motorcyclists with new case studies and Abridged Theory Test all with click on text professional voice-over.
Three unique learning quiz programmes that enable you to cover all the Official questions with ease.

One designed to work with the standard DVSA theory categories
One to work with your study of the Highway Code or
One to work hand-in-hand with the early stages of your in-car driving course.

No other product gives you such learning flexibility or ease of use. Also includes one learning quiz programme specifically for the motorcyclist theory test.
Pre-study illustrated learning notes for each of the above learning quiz programmes with relevant extracts from the new Highway Code, our own unique supplementary notes (covers the theory needed that is not in the Highway Code) and the Motorcycle Riders the Essential Skills publication.
Learning quiz hint pop up screen again with appropriate extracts from the above publications to help you with
any difficult questions.
Unique traffic light progress monitoring detailing which of the Official questions have been answered correctly, incorrectly or not at all. The only product to make it easy to know when all the Official questions have been learnt or what is outstanding.
Each learning quiz has the option to exclude questions already correctly answered thus enabling you to focus on those questions not attempted or answered incorrectly.
Learn on the Move - Download the pre-study, official questions and answers for revision on your MP3 player, mobile phone or iPod.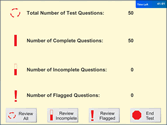 Exam testing module
Ten properly balanced pre-set simulated Theory Tests based on our extensive experience (as one of the largest national driving schools in the UK) of the most commonly occurring test questions all under realistic exam conditions.
Unlimited randomly generated Theory Test simulations (again properly balanced with the right number of questions from each category) just as on the real test.
Printable exam papers of randomly generated Theory Test simulations to allow you to test yourself away from the computer.
Review final revision module
Comprehensive test review with weaknesses automatically identified and feed back to the learning module using LDC unique traffic light questionmonitoring facility for subsequent revision before attempting another simulated test.
Reading difficulties?
Over 10 hours of professional voice-over presentation is provided throughout this product. Perfect for anyone with reading difficulties or who simply finds reading the computer screen tiring.
2. Hazard Perception program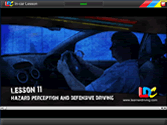 Information learning module
Official DVSA video introduction to the Hazard Perception Test.
Comprehensive video tutorial and interactive presentation about the scoring mechanism and precisely what constitutes a developing hazard.
Three Multi-media interactive tutorials entitled

About the HP Test,
Hazard Perception skills and
Defensive Driving skills

incorporating 30 video clips and several interactive animated presentations.
Practice learning module
Thirteen tutorials covering each of the 13 common hazard perception test types that can appear on test and in the real world.
14 Practice clips, one for each hazard test type and one containing a double hazard for you to practice on with comprehensive review.
After being tested on any practice clip you are presented with a comprehensive review feature that enables you to replay any practice clip in full or in part using a drag bar line that also shows exactly where you clicked and where each section of the scoring window was with the option to pause at each score point.
Exam Testing module
406 Hazard Perception video clips used to accurately simulate the Hazard Perception Test including the 10 Official DVSA Hazard Perception sample video clips. All shot from outside of the car as on the real test.
28 Full pre-set Hazard Perception test simulations with review option. Each test is unique and contains a properly balanced set of hazard test types. Test 1 contains the 10 official sample test clips making this simulation particularly realistic.
Random Hazard Perception Test simulations with review option giving virtually unlimited test combinations.
After each pre-set or random test you are presented with a comprehensive test review feature that enables you to replay any test clip in full or in part using a drag bar line that also shows exactly where you clicked and where each section of the scoring window was with the option to pause at each score point.
Exceptionally accurate anti-cheat mechanism to help you determine what type of clicking is and is not allowed.
Video is shot from outside the car in full PAL resolution (i.e. 720 X 576) just as on the real test - not from behind the windscreen of the car in a lower, grainer resolution as on most other products. Nobody can match the quantity or quality of the shots we provide.
Review and retesting module
Review your test performance by hazard type and retake a test using just those clips for any particular hazard type you are weak on. Once you have made sure you are no longer weak on any particular type of hazard use the league table of weakest clips to polish off any final clip weaknesses.
Weakest clip league table review and retest. Allows you to see and retest yourself on your ten weakest clips for any particular hazard type or across all types. Helps you to eliminate any final weaknesses you might have.
Pre-set Hazard Perception test simulation review so that you can re-examine any of the 28 previously taken pre-set tests from the testing module again.
Again as with the practice clip and test modules you have the comprehensive clip review features available to you.
3. Learning to drive program
Highly acclaimed LDC Learn-2-Drive programme of 20 lessons for you to follow with mum or dad or indeed your driving instructor.
The computer lessons are composed of over 50 interactive animated presentations with exercises, video tutorials and quizzes to help you prepare for each in-car lesson in the LDC programme.

1. Moving off
2. Gears
3. Steering
4. Co-ordination
5. The emergency stop
6. Junctions and hazard drill
7. Crossroads
8. Emerging from busier junctions
9. Roundabouts
10. Pedestrian crossings and traffic signals
11. Hazard perception and defensive driving
12. Dual carriageways
13. Town and city centre driving
14. Progressive driving
15. Mock driving test
M1. Straight line reverse
M2. Reversing to the left
M3. Reversing to the right
M4. Turn in the road
M5. Reverse and bay parking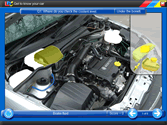 4. Show me Tell me program
Interactive show me drag and drop animated game.
19 interactive mock test video examples of the 12 "Show Me" and the 7 "Tell Me" Official test questions.


5. Practical Driving Test program
Video tutorial about the Driving Test.
Use an interactive talking version of the Driving Test examiners report to determine exactly what the examiner is looking and determine precisely what driving faults might be recorded and why.
Interactive training notes version of the Driving Test examiners report to help you correct any faults you may have identified from the above.
Full driving test video game. Take on the role of the examiner and determine how to mark the pupils Driving Test Report. Watch the full driving test and see if you can spot the faults.
6. Highway Code plus program
Talking Highway Code: the latest Official Highway Code for you to listen to, view, search and/or print.
Talking Supplementary Notes: covering theory not in the Highway Code for both the car drivers and the motorcycle riders theory test.
Easy to listen to professional voice-over presentation.
Free Highway Code eBook (RRP £1.95) in PDF format.
Free Theory Test eBook (RRP £4.99) in PDF format.
Full eBook search, extract and print capabilities.
Learn on the Move - Download information from the Highway Code or Supplementry notes for revision on your MP3 player, mobile phone or iPod.
7. Signs, road markings and signals program
Learn all about the signs system using a series of tutorials
Theory Test signs quiz game.
Signs memory game.
Signs quick fire game.
8. Passed - What next?
Video introduction to the Pass Plus scheme
Pass Plus training notes
LD System motorway video lesson
Motorway driving lesson training notes
2 young 2 die interactive videos about real life experiences and excellent advice on how to stay safe.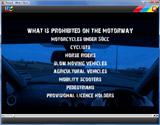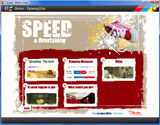 Minimum PC specification
The minimum PC specification recommended to run the above software is as follows:
Operating System: Windows XP or newer.
CPU: Pentium II 800.
Hard Drive Space: Minimum - 2.05gb with HP clips on DVD-Rom.
Memory: 128mb.
Graphics: 800 x 600
DVD-Rom Speed: 2 x or faster.
Audio: 16bit Sound card.
Although we are confident that the majority of Computers that satisfy this minimum specification will successfully run the program we can not guarantee this as other factors can also effect compatibility.