About the LDC Driving Instructor Course
LDC is renowned for its open learning course materials, our excellent central support team and our national network of expert ORDIT trainers. Unlike many courses which solely rely on in-car training for Part 2 and 3 LDC also provide a comprehensive open learning course that integrates with the in-car training. Available for study online as well as in hard copy form shown below.

This open learning course includes over 10 hours of video and a comprehensive self development programme that puts you in control of your own training. This enables you to review the lessons as many times as you like and undertake complementary practice on your own or with a partner to help boost the value of the practical training provided by our local expert trainers. You also get extensive support from our central support team via telephone, email, online or face-to-face. Regarding the practical training; you can receive up to 70 hours 1-to-1 training or more if shared with one or more students. More importantly it will be delivered to suit you and ensure you can make rapid progress; with Part 2 in-car training starting at the same time as Part 1 and Part 3 in-car training starting after passing Part 1.
The most comprehensive open learning package of modern learning resources available - over 10 hours of video training, specially designed software, modern learning aids, a dedicated student Hub and much more.
Extensive support from our central training team via phone, internet, forum, fax, post or face-to-face.
Up to 70 hours 1-to-1 practical training with a fully qualified DVSA ORDIT instructor trainer.
The option of a trainee licence is also available - a form of modern apprenticeship to enable you to learn while you earn on the job as a trainee instructor for 6 months in preparation for the Part 3 test.
We have 50 ORDIT qualified trainers who provide training from most test centres where the ADI Part 3 qualifying exam is carried out.
We passed... so can you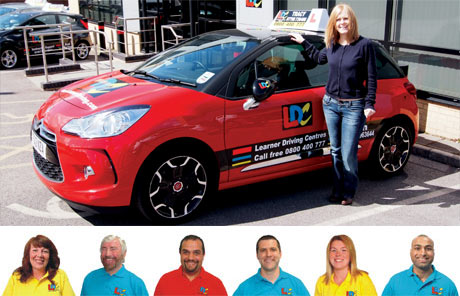 What our customers say
Graham
"Since completing my training, I have found that I look forward to going to work every day and I get a real kick out of helping my pupils to learn to drive using the skills I learned with LDC."
Susan
"I found the LDC training course excellent; no minor detail is left to chance. My local tutor was fantastic. If you are serious about becoming a driving instructor, go to LDC, I would highly recommend them."
Neill
"I would not fail to recommend the LDC way of doing things to anyone. In fact I already have advised a friend to look into them and now being half way through his training he cannot fault them either."