FREE Theory Test
Below you will find options to take a free Theory Test using the Official DVSA Theory Test revision questions for the Theory Test test without the need to register your details. The options below are only for car drivers but the full product provides tests for both motorcycle riders and car drivers. The second part of the Theory Test is the Hazard Perception Test which you can sample by going to Hazard Perception Test.
Option 1 : Free Theory Test download (PC software)
Free Theory Test Download

If you would like to experience the first part of the Theory Test please click the button opposite to download a fully working example of the multiple choice test. You are provided with a full mock theory test containing the official DVSA Theory Test revision questions, answers and explanations including new case study examples. This free Theory Test software demonstrates one of the eight programs in the award winning Driving Test Complete and Driving Test Ultimate products and is based on the Theory Test Express download product. The download file is about 43mb in size. Please feel free to pass this file on to your family and friends as no registration is required.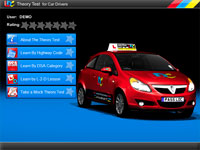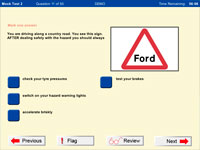 Option 2: Free online Theory Test
Please click on the image below to access LDC's exciting new Theory Test Online product suitable for mobile devices. This will give you access to a FREE Theory and Hazard Perception Test to try online.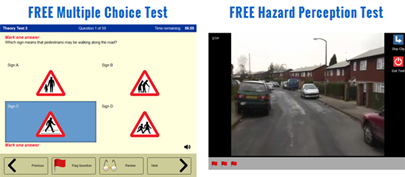 Option 3 : LDC Theory Test App
2 FREE Theory Tests are provided in this app. The app is available for iOS and Android smart phones and tablets.
Hazard Perception Test IOS Download

Hazard Perception Test Android

Important information about the Theory Test
The Driver and Vehicle Standards Agency (DVSA) stopped publishing the multiple choice questions and answers used in the actual theory test for car drivers and motorcycle riders on 23rd January 2012. A completely new set of theory test questions was introduced at this point. These questions are not available to the public in any product or in any other form. The Official DVSA Theory Test question bank that had been published prior to these new questions is still available for use through many different products but these questions are no longer the real test questions.  Because these are no longer the real test questions the Official DVSA Theory Test question bank must now be referred to as the Official DVSA Theory Test practice or revision questions (i.e. not the real questions).
The move was introduced by the Road Safety Minister to ensure new drivers learn the principles behind driving theory instead of just memorising the answers to pre-set questions. Also as part of these improvements newer more difficult case studies questions were introduced at the same time - again emphasising the need to properly learn and understand the theory aspect of driving and riding. Consequently, when looking for a product make sure it has a good learning section as well a realistic test practice section.