Booking the theory test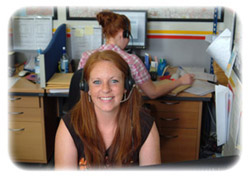 You can obtain a theory test application form from LDC by clicking request theory application form or calling our free phone 0800 400 777. If you buy a theory test product or a course with LDC our sales team will happily organise and book the test for you. See the Products or Driving Courses section for more details.
Alternatively you can book your theory test online. If you want to book online with no hidden fees use the DVSA's official online booking service; there is no booking fee and your need only pay the standard test fee. Upon booking you will be given a booking number and sent an appointment card as confirmation within 4 days.
Please note you can apply for you car provisional driving licence up to three months before your seventeenth birthday (see section Before you start for more details). This would enable you to book your theory test on your seventeenth birthday or shortly thereafter.
Cancelling the test
You are required to give a minimum of three clear working days notice of your decision to cancel or postpone your test, otherwise you will lose your test fee.
Arranging a re-test
If you fail the test you will have to wait a minimum of three clear working days before you can take the test again.
Other special requirements
The DVSA are required to make every effort to ensure that the theory test can be taken by all candidates. However, it is important that you discuss your needs with them when booking the test.
To help candidates with dyslexia or other reading problems a headset can be provided with an English language voice-over. You can also ask for up to double the normal time to complete the test. If you have any queries please ring the number stated earlier and ask for the Special Needs section.
If you cannot read or write in any of the languages provided, you are allowed to bring a translator with you. However, it must be a DVSA approved translator.
Foreign licence holders
If your driving licence was issued outside of the EEA you will need to check with the Driver Vehicle Licensing Authority (telephone 01792 772151) to determine if your licence is valid in the UK.
At the test centre
You must take one of the following items with you to the test centre.
1. Both parts of your signed photo card driving licence or;
2. your signed driving licence and your passport.
It would also be helpful if you take your appointment card or a note of your booking number.
It is extremely important that you arrive in good time at the test centre so that the above documents can be checked. If you arrive after the start time you will not be allowed to sit the test and you will lose your test fee.