About the Driving Test
The Driving Test for car drivers is about 40 minutes long. During this time the examiner will:
Check your eyesight by getting you to read a number plate at the required distance.
Ask you to show or tell them how to conduct certain vehicle safety checks
Direct you to drive around a test route while incorporating one of the following set manoeuvres and optionally the emergency stop.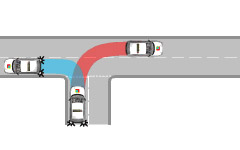 Set manoeuvres:
Reverse parking behind a parked car or into a parking bay.
Reversing round a corner.
Turn in the road
More details about how each section of the test is conducted can be obtained by clicking on the links below the Driving Test button.