The Driving Instructors Handbook (20th Edition)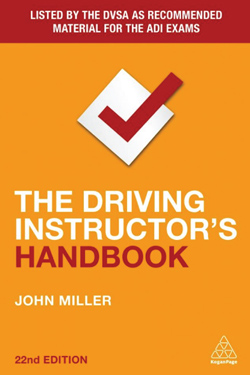 The Driving Instructor's Handbook offers comprehensive guidance on the role of the driving instructor, the exam, the car, driver training, the responsibilities of the driver and the learner driving test.
The Driving Instructor's Handbook is widely recognized in the driver training industry as the authoritative reference guide for trainee instructors. It covers every aspect of the profession from: the role and the characteristics needed to do the job well; preparation for the three ADI examination requirements (Theory and hazard perception, Driving ability and Instructional ability); the driving test; business skills and customer care; through to driving larger vehicles.
This, the fifteenth edition, has been fully updated to include sections on fleet driver training, the LGV register, CPC for lorry drivers and information about the Road Safety Act.
This best-selling handbook is also valuable reading for experienced instructors. You will be able to update your knowledge and business style so that your methods are comparable to newly qualified competitors.
Reviews :
"This book could perhaps be described as the bible for our industry … It doesn't matter if you are just starting out on the rocky road to becoming a driving instructor, or whether you have been driving this road for ten years or more, you should have an up-to-date copy of this book."
Association of Driving Instructors News
"An up-to-date copy of The Driving Instructors Handbook is as essential for a fully qualified instructor as it is for those seeking to pass the ADI qualifying examinations."
John Lepine, MBE, General Manager, The Motor Schools Association
"Covers everything an aspiring instructor needs to know."
Driving School News
"The reason you need to buy it is because it is the most complete reference guide for PDIs and ADIs there is."