The Official DVSA Guide to Hazard Perception DVD-ROM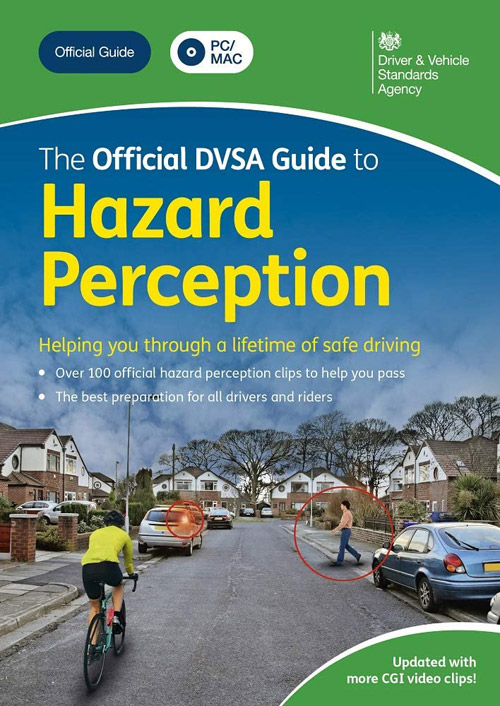 Prepare to pass your hazard perception test first time, or simply sharpen up your driving skills, with the only official fully interactive DVD-ROM for PC and Mac. Develop your hazard perception skills, explore a variety of environments and road conditions, and create your own practice tests.
Essential for learner car drivers, motorcyclists, LGV drivers, PCV drivers and trainee driving instructors. Great practice for ALL road users.
Learn from the experts - DVSA, the people who set the tests. This DVD-ROM has over 100 high-quality, interactive video clips designed to help you pass, including CGI clips
What is a hazard? - the study section teaches you everything you need to know about hazard perception (including looking for clues and scanning), so you're completely prepared for your test
Responding to hazards - packed with interactive exercises to help you learn, including a sign matcher, multiple choice clips, multiple choice questions, and commentary clips
Prepare for your theory and practical tests - practise with clips designed to reflect the real test
Clearly track your progress - it's easy to see how much you've completed and how you're doing, so you know when you're ready to pass!
Makes passing your test simpler - follow the clear three-step process 'study, practise, test yourself', so that you're completely prepared for your test
Review and improve - the clip review feature shows you exactly where the hazards are, so you can keep improving
Be the first to review this product
Key features:
Fully interactive
Includes updated references to The Official Highway Code
Features the official DVSA hazard perception video clips
Provides feedback on your performance, so you know when you're confident and ready to pass
Produced by the Driving Standards Agency, the people who set the tests
PC
Operating system: Microsoft Windows 7, 8, 8.1 and 10
CPU type and speed: Intel Core2 Duo or equivalent processor
Hard drive space: 3.5GB free (minimum)
Memory: 2GB (3GB recommended)
Display: 1024 x 768 or higher
Mac
Operating system: macOS 10.13 to 10.15
CPU type and speed: Intel Core Duo or faster processor
Hard drive space: 4GB free (minimum)
Memory: 2GB (4GB recommended)
Display: 1024 x 768 or higher