We passed with an LDC instructor so can you
Over 10,000 Five Star reviews are listed on the following 590 pages starting with the most recent to the oldest (25 reviews per page). These reviews have been extracted from the customer reviews on each of the individual LDC driving school owners websites.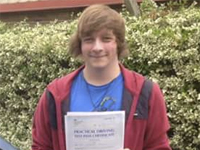 Joe
I really loved learning to drive with you and Alison you both are great teachers and really nice and easy to talk to, very supportive and. Helpful, thank you both so much for all the time spent teaching me this amazing skill, I definitely recommend the LDC driving school to any one who wants to l...
Read more from Joe