Driving - The Essential Skills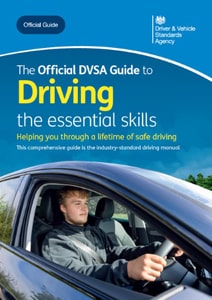 The Official DVSA Guide to Driving the essential skills is the only officially recognised industry-standard driving manual from the DVSA, the Driving Standards Agency. The Government body responsible for conducting driving tests in the UK. There is no other comparable, comprehensive, official product available on the market. It is ideal for all drivers - whether learner, experienced or instructor - to help them learn and maintain safe driving skills and improve their driving technique.
Also includes a chapter devoted to taxi drivers.
Industry Reviews:
"The layout of the book is effectively simple, the organisation logical, and the text as lucid as ever." (Driving Instructor Magazine)
"It remains the most reliable source of reference for all drivers, learners, qualified or professional. Well illustrated and written in a clear and simple style, this is an ideal in-car reference book for ADIs and driver trainers. If you are an ADI and don't have a copy - shame on you." (ADI News Magazine)
"An accepted bible of driving technique to its faithful apostles." (Driving Magazine)
Be the first to review this product
Please fill out the information below to review the Driving - The Essential Skills.