The Complete - Hazard Perception Test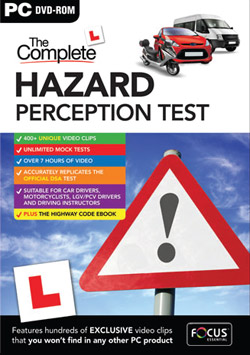 The UKs best-selling driving test software brand - Over 4 million units sold since it was produced in 1997
Developed in conjunction with leading driving experts, Driving Test Success Hazard Perception provides an unsurpassed learning experience that is as close to the real test as you can get.
Using this best-selling software brand you will learn how to recognise potential dangers on the roads and practice your skills in a wide variety of settings. Test yourself using professional quality hazard perception video clips shot from outside the vehicle, just like the real exam. You will soon gain the vital experience and confidence you need to pass the Hazard Perception part of your Theory Test, and for safe driving in real life.
Essential for:
Car Drivers
Motorcyclists
LGV Drivers
PCV Drivers
ADIs/Trainee ADIs
NEW!
Improved video quality
All mock tests contain the correct number of clips
Online updates to reflect any changes to the actual DVSA test
400 HAZARD PERCEPTION VIDEO CLIPS
Sit interactive mock tests under exam conditions and get the best preparation for your test
LEARN
Complete video guide to the test
Over 1 hour of learning material
PRACTICE
Review all video clips and tests
Detailed progress monitoring
PASS
Randomly generated mock tests
Plus 14 pre-set test simulations
Be the first to review this product
Packed with 400 unique interactive video clips to test your Hazard Perception skills.
A virtually UNLIMITED selection of unique mock tests.
14 carefully balanced pre-set mock tests.
Gain experience in a variety of settings including main roads, town and city centres, dual carriageways, residential streets and country roads.
Review each clip with a timeline to discover where the hazard occurred, and where the maximum score could have been achieved.
Analyse your performance over time using detailed progress reports.
Exam hints and tips to help you pass.
Covers motorway driving and poor weather conditions to help you prepare for safe driving after the test.
Practice "Real Life" Hazard Perception video clips filmed from inside the car, designed to prepare you for actual driving, with distractions including raindrops, wiper blades or reflections. PLUS over 1 hour of additional video training tutorials:

Find out what to expect in the test; how it's marked, how anti-cheat detection works, and much more.
Using expert driving commentary, a highly experienced Police pursuit driver shows how to handle potential hazards.

Test your knowledge in the Hazard Perception multiple choice quiz
This product is unique and does not contain any Hazard Perception video clips from our Driving Test Success ALL TESTS product.
Minimum PC specification
The minimum PC specification recommended to run the above software is as follows:
Operating System: Windows XP (SP3) / Vista (SP2) / Windows 7 (SP1) or Windows 8/8.1
CPU Type and Speed: Pentium Dual Core/Core Duo 1.6 GHz or similar
Hard Drive Space: 500MB (8.5GB for full installation).
Memory: 1GB (2GB for 64- bit versions of Windows)
Graphics: Any Direct3D 9 graphics card (with at least 64MB video memory, running at 1024x768 24 bit colour or higher)
Audio: Any DirectX 9 compatible soundcard
Internet: Required for updates and web links
Compatibility: Not suitable for Netbook PCs
ISBN: 9781843265955
Please fill out the information below to review the The Complete - Hazard Perception Test.